We Will Get You an Investment Banking Offer…
Or We'll Give Your Money Back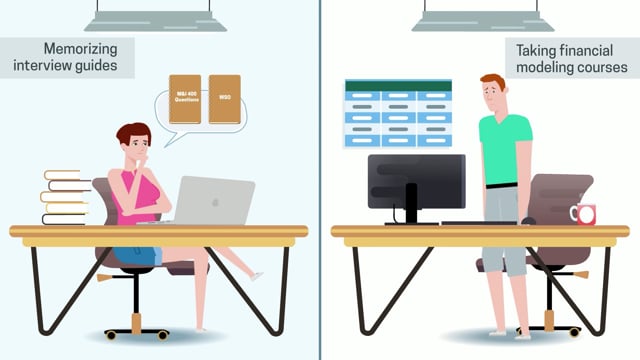 Our Students Have Placed Into All the Top Investment Banks... Plus Select Buyside Firms As Well:
A Few of Our Success Stories...
Daniel's a non-target student & the only one (out of 200+) to get an offer from an elite industry-focused bank…
Michael was a confident sophomore who was initially worried that Wall Street Mastermind was a scam…
Jenn went from zero to two sophomore summer offers & a junior summer offer from PJT in 3.5 months…
Joe became the first person to break into banking from his non-target school in the last 2 years…
Keshav was a non-target liberal arts college student with no finance background… and ended up with 4 offers
Alex had no luck as a non-target student who just relied on Wall Street Oasis and other investment banking guides…
Elite Investment Banking Coaching Fellowship
(For More Details, Hover Over The Tiles Below On Desktop Or Tap The Tiles On Mobile)
Candidate Branding Makeover™
We'll build you a signature Irresistible Resume™ which seductively ticks-off everything a banker is seeking in a trophy candidate, and more importantly makes the banker look like a hero for finding you! More importantly, if you are lacking experience, we will help you get your foot in the door with your first relevant finance internship within just 1-2 weeks. Our method for this has worked 100% of the time to date.
Optimize Networking Funnel™
Most top banks receive 100+ applications for every hire, making networking mandatory if you're serious about getting hired. Contrary to popular belief, networking is NOT just a numbers game. To network efficiently, you must treat it like a funnel, identify the leaks, and optimize each conversion point. We will 1) help you uncover the bankers who are eager to help, and 2) teach you a conversation framework that gets you referrals easily.
Professionally Crafted Behaviorals™
The real difficulty with behaviorals is that 1) it's hard to know if your answer is actually what the banker wants to hear, and 2) it's virtually impossible to accurately benchmark your answers against your competition's. Simply coming up with your own answers and HOPING it's good enough is a losing strategy. Instead, let an experienced banker make detailed edits to every single one of your answers, rewriting each one line by line until it's perfect.
Accelerated Technical Mastery™
Today, interviewers are no longer asking simple "definitional questions" where the answers can be memorized. To adapt, you should learn all the technical concepts directly from an investment banker, in as little as 20-30 hours. Confidently answer the toughest technical questions without memorizing a single interview guide. Outperform your competition and the cookie-cutter answers they struggled to memorize despite 100+ hours of self-study.
Unlimited On-Demand Feedback™
Getting coached by an expert is always going to be better than learning through self-study. It's the same reason why people pay up to six-figures to go to college to learn from professors when they can just self-study by reading a textbook or going online. The level of comprehension is night and day. When you DIY, you miss things that are in your blindspot. Instead, have a banker who can coach you through any situation, 24/7, on demand.
Elite Intelligence Network™
Investment banking recruiting is usually a long and grueling process. Your competition is cutthroat and not about to help you out. And going through it alone can be stressful and lonely. That's why we refer to the students in our program as the "Wolf Pack." Because we hunt for jobs together, and we've fostered a culture where everyone helps each other out. The Wolf Pack understands that we're stronger when working together than individually.
Question: What's the Investment to Join the Elite Coaching Fellowship?
Answer: All of our work is customized based on your needs, because a one-size-fits-all approach does not get results for our students. Specifically, we need to understand 1) what you need help with, and 2) how much help you need. To discuss something that makes sense for you, click the link below to schedule a free virtual coffee chat with one of our successful WSMM alums. On the call, you can tell us what you need help with, and the alum can tell you based on their experience if we are actually a good fit to help. If we are not, we will be very honest with you because working with you and then refunding you when we don't get you an offer would be a waste of our own time and money. However, if we are a good fit to help you, the alum can set you up for a follow-up call where we discuss your customized game plan.
Still Not Sure Even With the Money Back Guarantee?
Get a Free Preview of Our Program First With Our
All-in-one Investment Banking Recruiting Toolbox
We've Worked With Target & Non-Target Students From:
About Sam, Founder Of Wall Street Mastermind
Sam founded Wall Street Mastermind to help aspiring investment bankers break into one of the highest paying, but also most competitive fields out there. He remembers how tough it was back when he tried to do so himself in 2007, right as the financial crisis was starting. Fortunately, he received invaluable mentorship from a friend who was already working as a vice president at a bulge bracket bank, and went on to work at one of the top groups on Wall Street (Morgan Stanley Technology Investment Banking).
Ever since then, his career has benefited tremendously from the time he spent in banking. He subsequently worked in private equity before moving on to run Strategic Finance at several high-growth VC-backed startups. Now, he would like to pay it forward and help others with similar aspirations achieve their dreams.